record CLEAN K2-A – Double sided hermetic sealing doors for hygienic environments
record's CLEAN K2-A is a double-sided automatic sliding door especially designed to have a hermetic sealing capability for use in operating theatres and any other clean rooms with requirements for a high level of hygiene, where the aim is to prevent or minimise the transmission of bacteria or particles via air flow.
In environments such as clinics, research and laboratory rooms, pharmaceutical production facilities, quarantine zones and clean rooms for the production of foodstuffs, this door provides hermetic closing and an easily cleanable surface. These sliding doors are manufactured from a wide range of materials and are available in a range of attractive finishes. In addition, a large range of materials is available for the cores of the door to provide, for example, protection against electrons, x-rays and gamma rays, fire and smoke. All adaptions are certified.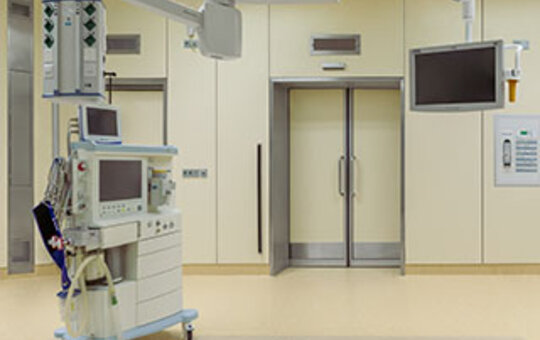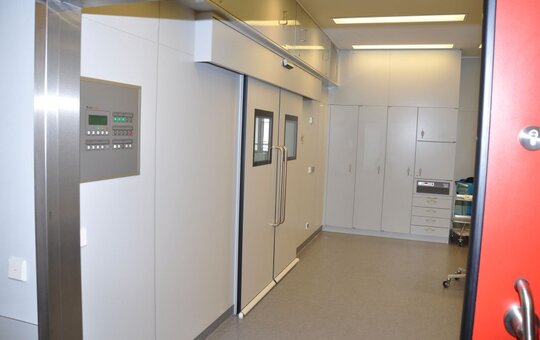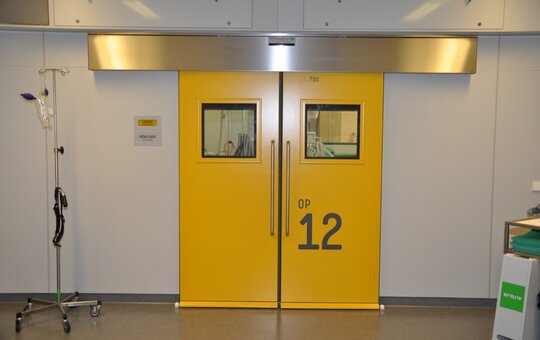 The door cores of the CLEAN K2-A can be adapted to provide an additional range of protection such as protection against x-rays and gamma rays, fire and smoke, and noise, as indicated in Options below. A large range of materials are available for the door leaf cores and similarly, a large range of door finishes is available.
Features
twin sliding door leaves
hermetically tight closing
hygiene friendly finishes and surfaces
noise dampening leaf cores
water resistant materials for use in damp areas
adaptable internal door cores
range of materials available including steel
Benefits
adaptions can be made to door core to meet additional requirements
all adaptions certified to required standards
Options
radiation protection lead core
smoke and fire protection core
available as a manual door
flush glazing in line with customer requirements
handles on both sides (stainless V2A)
recessed handles (to allow panels to slide parallel)
if required, door panels can also be finished in plastic of any colour.