record FlowControl - Control the number of people to aid social distancing
Our solution can be used in all facilities to control the flow of people, from retail stores, schools, public buildings, offices, factories, restaurants, cafes - any building where further social distancing will be a priority.
The system monitors the number of people in the building and automatically deactivates the entrance door when the pre-defined people count is reached, to prevent further access until someone exits the building or shared area – even if there are several entrances and exits to the building. In this way, the flow of people can be reliably limited so that a safe environment is maintained.
Our standalone solution will relieve employees from monitoring entrance/exit doors, enabling them to be re-deployed elsewhere.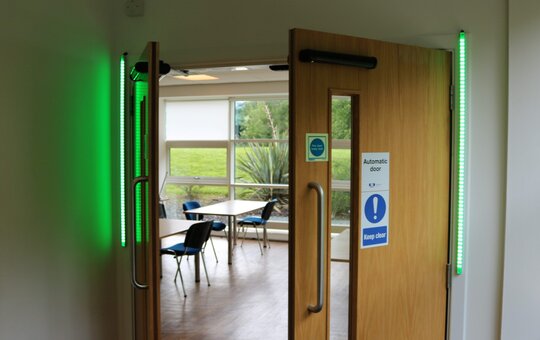 Key Benefits:
Green/Red LED stripes or traffic lights clearly display when entry is
allowed/denied and are resistant to vandalism
Alleviates the need for employees to man entrance/exit doors
User-friendly system can be manually adjusted to suit peak/off peak
hours and working patterns
Minimal disruption; system can be installed within 2-4 hours
Compatible with most manufacturers automatic doors