record DFA 127 FULL POWER – Automatic swing door with additional functions
The DFA 127 Full Power Autotmatic Swing Door Operator is the powerhouse in the family of record swing door operators. Its versatility means it is perfect for providing an automatic opening in a wide range of environments, from busy shopping malls to quieter offices and healthcare facilities. It is compact and reliable with microprocessor technology allowing many additional functions.
The adjustable spring force of the DFA 127 Full Power enables a range of door sizes from EN4 to EN6 to be used. Spring forces can be quickly and easily adjusted on site using the adjustment screw. The sophisticated technology enables complex functions to be programmed with ease and optimum power deployment in the entire swing area.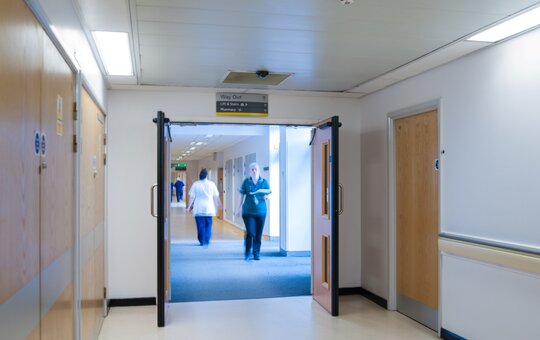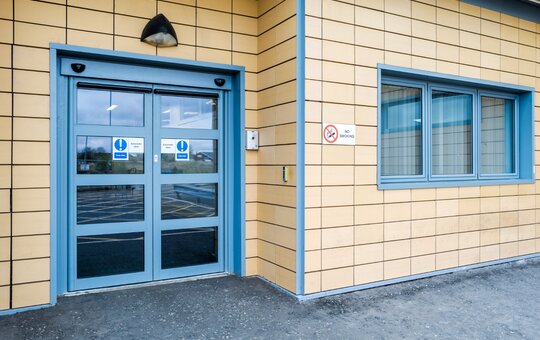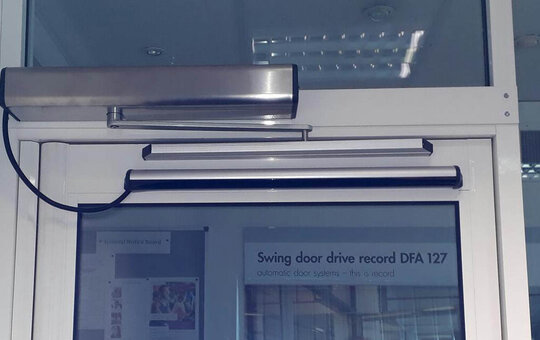 The DFA 127 Full Power microprocessor controls every door movement evaluating the current door position, the door speed and the final position at every instant to precisely calculate the optimum motion. This eliminates any sudden end-stops, jerky braking actions, or creep speed increases. Safety is also additionally increased by the use of a redundant force limitation option which comes into operation should power to the main operator be lost.
Features
refined technology
compact design
practically silent operation
power saving mode
programmable microprocessor
easy to use control switch BDE-E
Benefits
reliable and versatile
wide range of applications
can be modified to suit functional requirements
functional options available
Options
redundant force limitation option
break-out option for emergency exit available
double swing doors with or without master/slave operation
adjustable opening of one or both door panels (stretcher opening)
interlock function for two single doors installed consecutively
direction-oriented opening for oncoming traffic in corridors