record Speedgate Swing Slim – for internal installation
High-speed automatic Speedgate Swing Slim with motor-driven swing doors for indoor use is a seamless and fluid barrier enabling a fast and steady flow of people at your entrance without compromising security.
Transparent design and effective barrier performance in a small footprint, it is ideal for sites where space is limited but aesthetics are still a must.
Quiet and smooth in operation, the record Speedgate Swing Slim is suitable for use in the Leisure, Government, Finance, Banking, Retail, Telecommunications, Information Technology, Publishing and Education Sectors.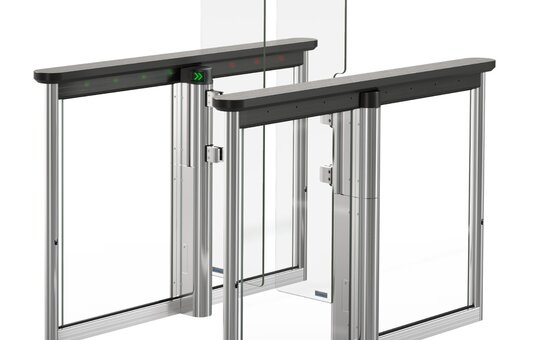 The record Speedgate Swing Slim is available in the BA finish with anodised aluminium silver (black for EV finish) colour lid. Applied finish selection is available as an option. Both versions are available in two lengths and with a selection of leaves widths and heights and many other customisation options.
Features and Benefits:
ergonomic design provides user-friendly experience whilst maintaining
the intuitive flow of people
highly durable slimline frame for improved aesthetics
extremely reliable and efficient DC motors ensure high levels of operation
uptime and years of reliable service